Outsource MS Data Entry Service to India
Data Entry Export offers a reliable and consistent MS Access data entry solutions, which comes in an attractive package. Our dedicated team is experienced enough to store and manage the essential information in a database for further reference. We will help you to record accurate data and will also ensure to offer 100% protection guarantee.
Our team utilizes the contemporary programming and database tools or technologies and assure the clients to provide the desired result. They possess an in-depth knowledge regarding how the MS Access breaks down a database into various aspects such as records, types, tables, and database files.
Microsoft Access is a part of the Microsoft Office group. Though it consists of layout and navigational elements similar to Microsoft Office, it is generally defined as a database, or more specifically a relational database.
MS Access is widely made up of tables, relationships, queries, forms, reports, modules, and macros. Today, most of the business firms are utilizing the MS Access to maintain simple as well as complex databases. It is the most flexible and affordable option for storing a large amount of data.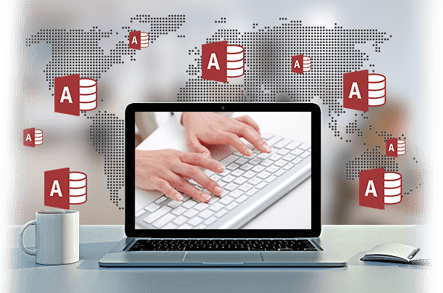 Our MS Access Data Entry Services includes:
• Creating and optimizing the database structure
• Developing new records within the database
• Creating robust relationships between the databases
• Updating the existing records within the databases
• Manual entry of information into the database via various input sources
• Mail merges service
• Verifying the data against the input sources
• Form information entry and processing
• Generating the reports
• Customized database entry
We receive the input files in diversified formats such as:
✔ PDF files
✔ Web pages
✔ Hard copy
✔ Scanned files in the form of .jpg, .gif, .bmp, and .tiff formats
If you are interested to hire our unique and highly commendable MS Access Data Entry Services, kindly drop us an email to info@dataentryexport.com